Follow the Spiritan Dream
OUR PRAYERS
RIP, Fr Andy
We pray for the repose of Fr Andy O'Sullivan, 92, who passed away on 31st January.
He was a model Holy Ghost Father and missionary to Africa.
He is remembered by many as "Gentle, full of fun but strong in his beliefs."
Our prayers and most sincere condolences to the Spiritan family, and especially Fr Andy's community in Carfin.
May he Rest In Peace!
The Needy:
For our new Parish and the People of God facing challenges in their lives – that they might find strength, comfort and healing from our visits and friendship, and may we help one another carry our crosses each day, as we try to follow Christ.
Receive The Holy Spirit
Spirit Of The Living God Fall Afresh On Me

Reflections, News & BLOG

Death of Blessed Jacques Laval, 1864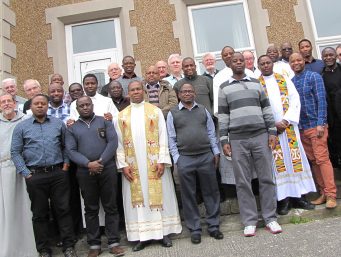 The celebration of the Feast Day of Claude Poullart des Places, one of the 2 Spiritan founders.

Share Your Faith - Give Life. It is the one Sunday in the year when the Mass is celebrated exclusively for missionary activity. Donations are collected at these worldwide Masses and they go, in their entirety, to support churches, hospitals, schools and vocations in countries where the Church is new, young or poor. World Mission Sunday is our chance to show love and solidarity to our brothers and sisters overseas who share our faith. In offering our prayers, we join with missionaries everywhere in communion and compassion to support them in spreading the Good News, and by giving a donation we respond to Christ's call to feed the hungry and clothe the naked.