CYCLE C   |   EASTER   |   WEEK 7
PARISH NEWS
– By Fr Hugh Davoren, C.S.Sp.
Hassop, Near Bakewell, Derbyshire 
---
On Sunday 29th May, the community of All Saints Church, Hassop, came together to celebrate with some of the young people in their Parish who received the Sacrament of Confirmation.
Bishop Patrick Mckinney, the Bishop of Nottingham visited the Parish on the Sunday for the Sacrament of Confirmation to four young parishioners.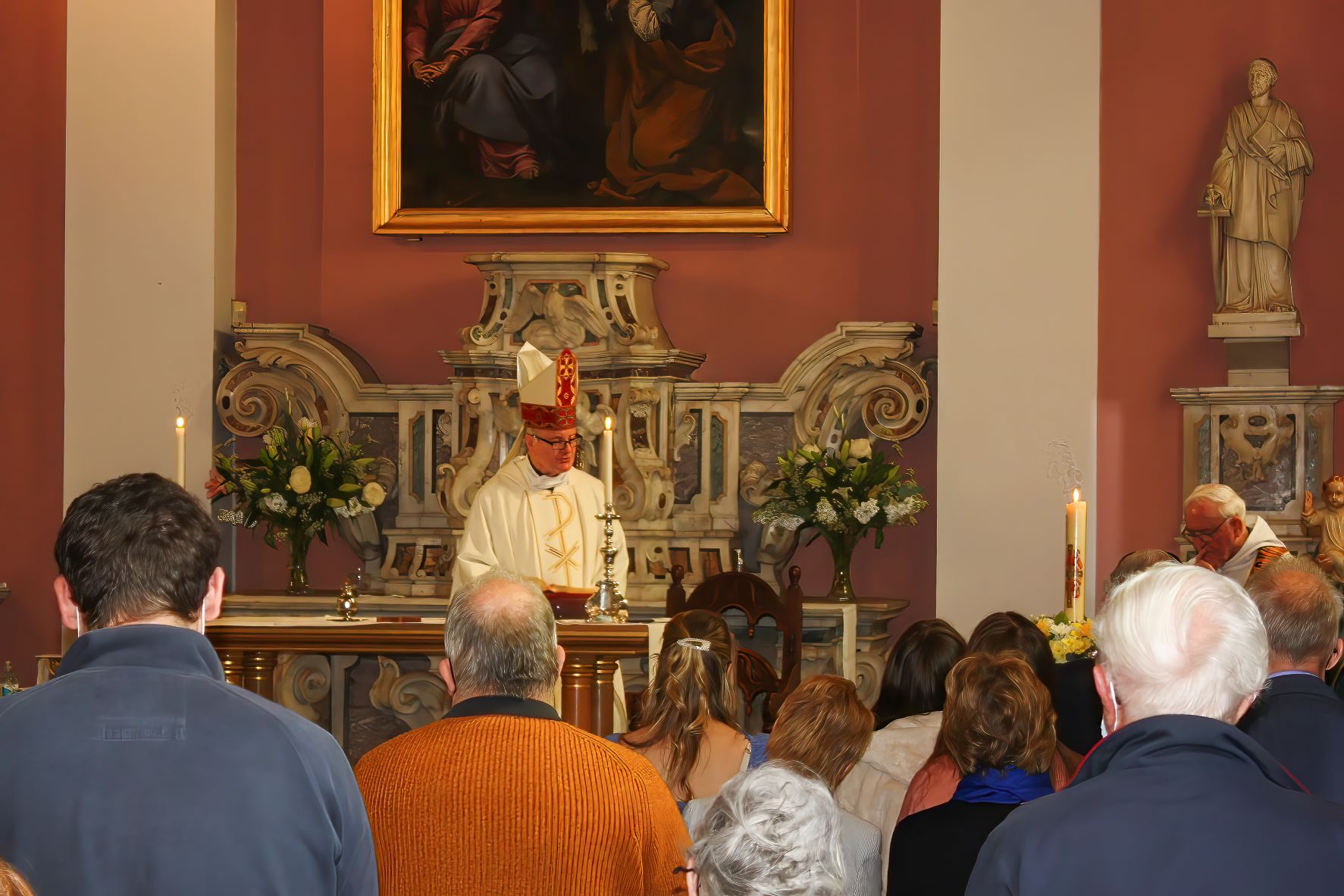 At the Mass, Tilly, Aoife, Hugo and Archie Huw were anointed with the Oil of Chrism which is blessed by the Bishop every Holy Week in the Cathedral. Together with the Christian community gathered, they renewed the promises made on the day of Baptism.
Fr Hugh Davoren, CSSp., the Parish Priest of All Saints Church, recalls that "A lot of preparation had taken place by way of catechesis, choir preps, order of service to be put together, refreshments to be planned and so many other things to be thought of. However, it was a beautiful celebration and pastoral visit from Bishop Patrick McKinney."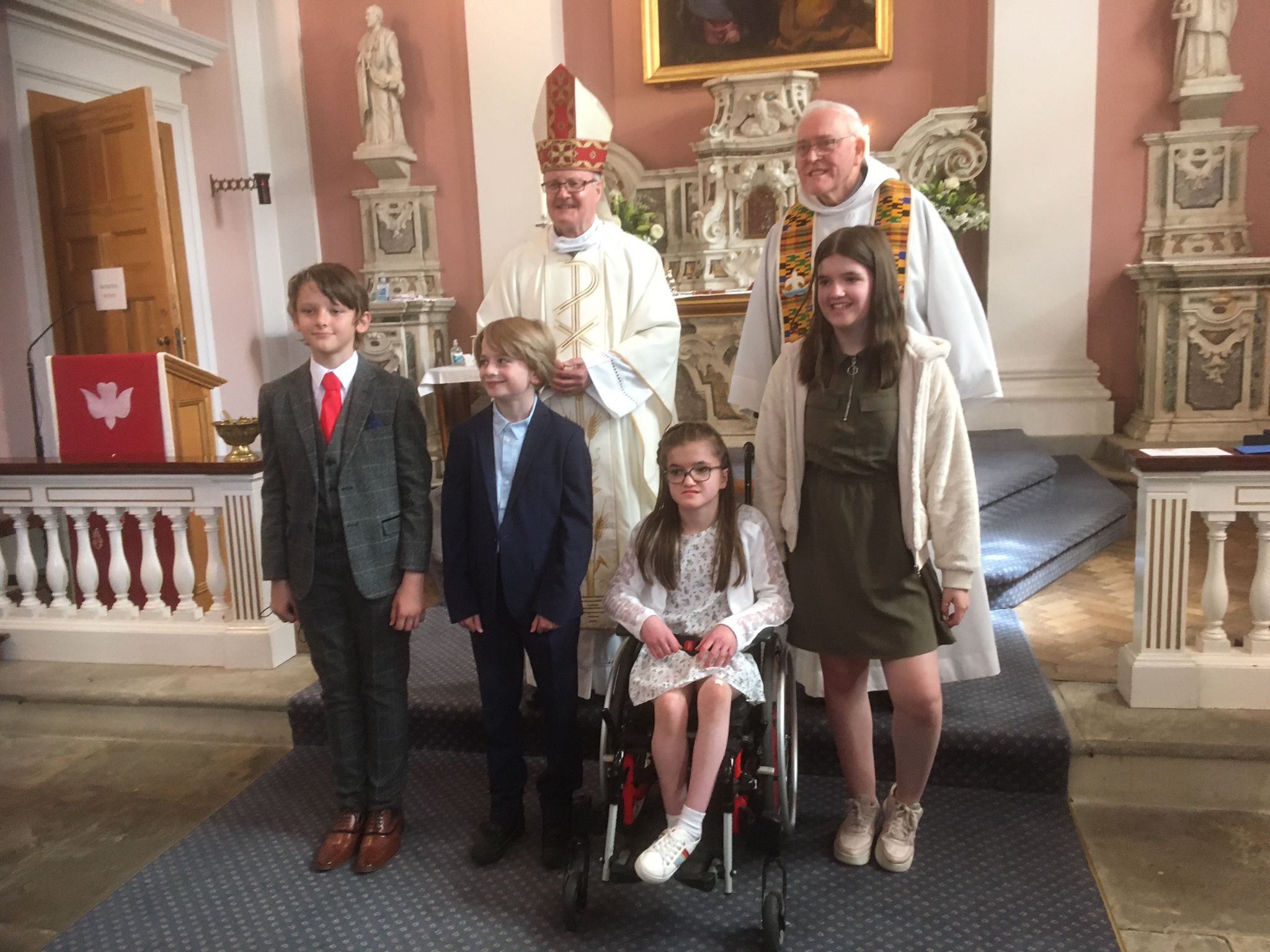 He said that the Bishop had said to him, on leaving for Nottingham, "What a lovely community you have here in Hassop."
"Yes, I believe he is quite right and yesterday we saw that sign of a parish community at its very best," he responded.
At the end of the Mass, Bishop Patrick thanked the Spiritans profusely for their 50 years of ministry in Hassop and he mentioned by name and their years of service in the parish the four Spiritan priests who have served as parish priests, namely: Frs. Peter Devins, Bill O'Neill, Vincent Griffin and lastly Fr Hugh Davoren.
Fr Hugh pointed out that "The Spiritans have been in Nottingham diocese since 1944 having had our Scholasticate (Seminary) here and, then, our novitiate. At one time we probably had as many as 60 professed members here."
Bishop Patrick formally thanked Fr Hugh for his 16 years of active and dynamic ministry in Hassop, and especially for participating in both the diocesan gatherings and gatherings of the religious of Nottingham Religious Together.
Parishioners were very generous in their applause of appreciation as Bishop Patrick wished me a happy and long retirement.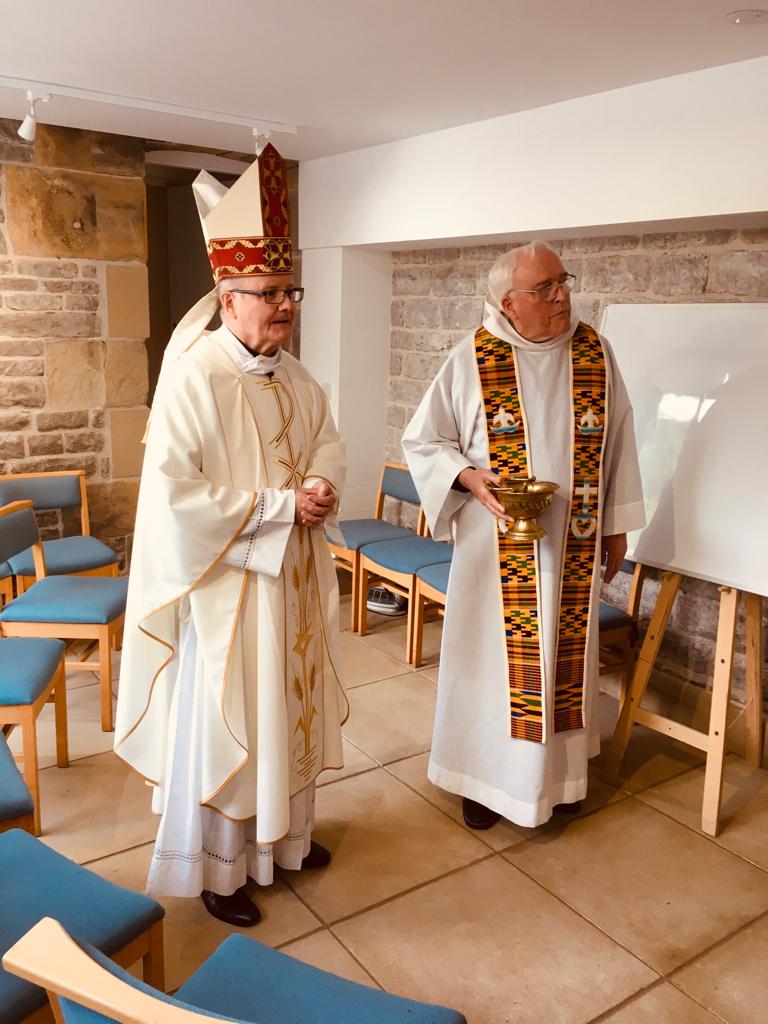 At the end of the Confirmation service, Bishop Patrick dedicated the new extension which is adjoining All Saints church. The parishioners proposed calling this "The Spiritan Room" and everybody agrees that it is a good development for the parish. We owe a huge debt of gratitude to Bill who designed it and put it all together.
The dedication plaque reads,
"The Spiritan Room – Dedicated by Bishop Patrick McKinney on 29th May 2022 – in appreciation of 50 years of priestly ministry by the Holy Ghost Fathers in All Saints Hassop".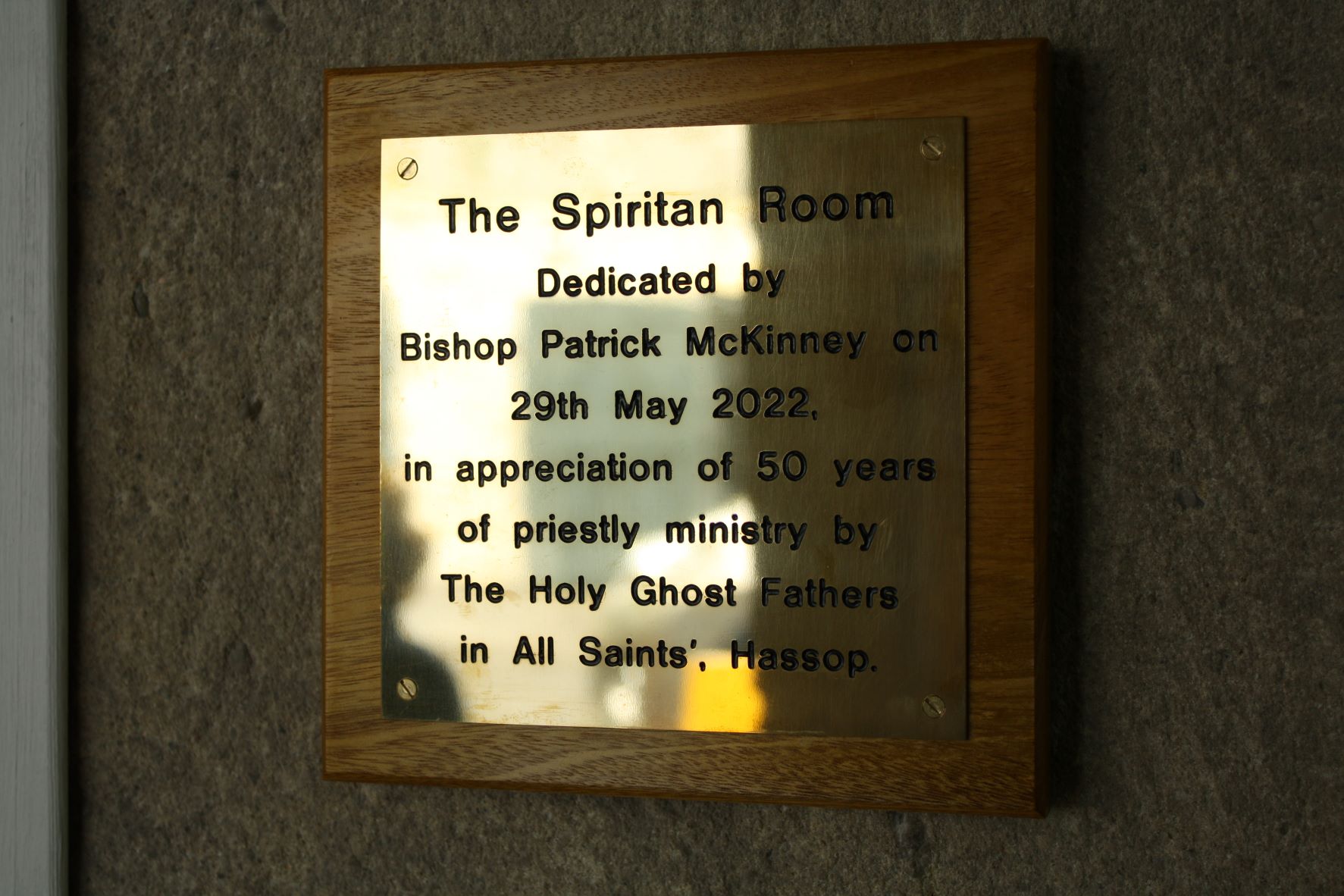 The dedication plaque is mounted on a lovely Nigerian hard wood similar to iroko.