Fr. Louis Mendy, C.S.Sp. of St. Bernadette's Church, Motherwell, a member of the Congregation of the Holy Spirit, died at St Andrew's Hospice, Scotland on 19 June 2021. He was 55 years old.
Father Louis was born in the Gambia and has served in our Diocese since 2019, serving as Assistant Priest of St Bernadette's Motherwell and Chaplain to Wishaw General Hospital.
At his funeral Mass on 2 July, the chief celebrant, the Right Reverend Joseph A. Toal, Bishop of Motherwell, invited all to "please remember in your prayers the repose of the soul of Father Louis Mendy, C.S.Sp."
"We offer our prayers, sympathy and condolences go to the Spiritan Communities at St Bernadette's and Carfin."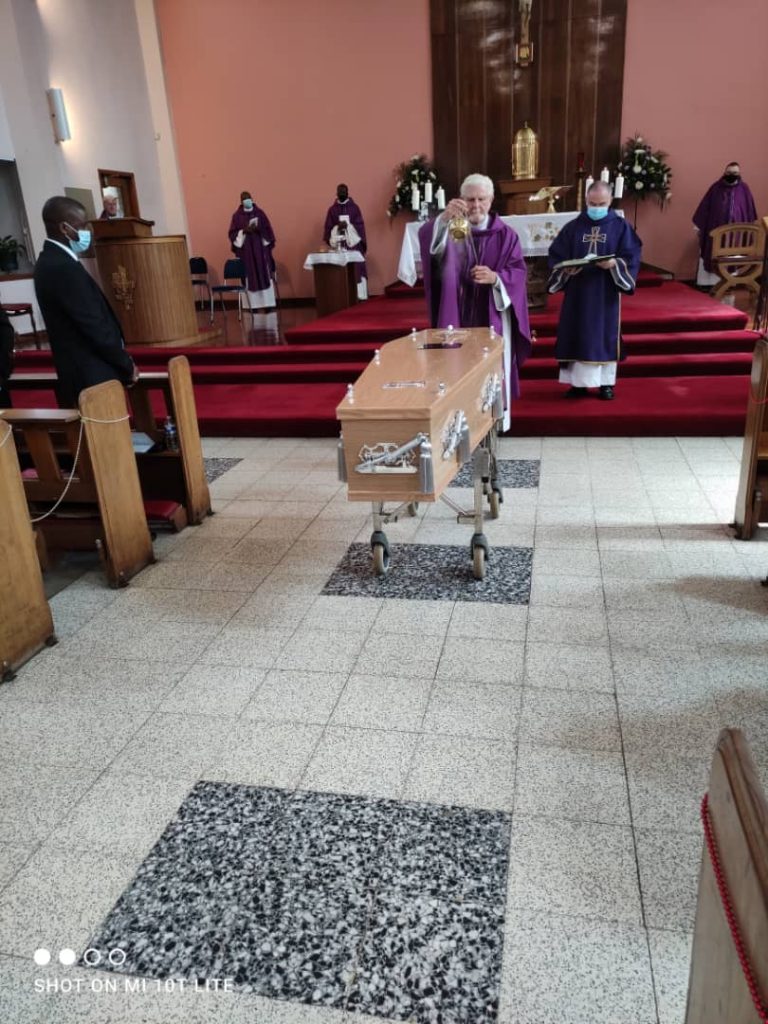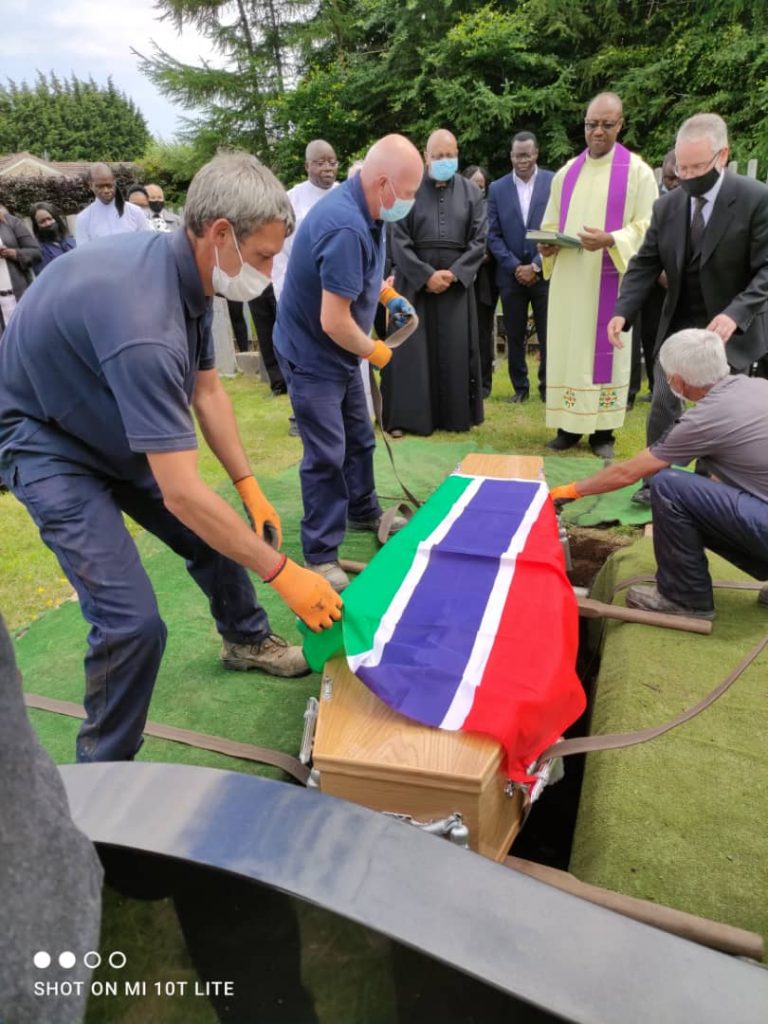 Fr Terry Donnelly, the Carfin Spiritan community leader, in his homily at the Mass, paid a fitting tribute to Fr Louis. He said:
"We are gathered here today to bid farewell to our brother, Louis Mendy, as he makes his final journey from this life to his heavenly Father and eternal life. As Jesus says in Matthew's Gospel that we have just listened to; "Come to me, all you who labour and are burdened, and I shall give you rest." Louis, you are entitled to your rest from pain and suffering. Rest in peace.
Louis' journey began on March 5th 1966 in Kunkujang Mariama in the south of the Gambia, West Africa. The Gambia has a population of over 2 million. The country is 95% Sunni Muslim and 4% Catholic, 0nly 15 – 30 miles wide and 300 miles along the Gambia River.
The Spiritans, mainly Irish, have served the Church in The Gambia for over 100 years and gave Louis his education both primary and Secondary. Inspired by their commitment to the Gospel and example, he decided to join them and in 1991 he went to the Spiritan Novitiate in Ghana. Following his first Profession on 8th September 1992, he remained in Ghana to follow his studies in Philosophy. After 2 years in Senegal for overseas experience and training from 1994 -96, he studied theology in Nigeria and was ordained on the 17th November 2001.
His first appointment as a priest was to Sierra Leone, where he joined the staff of the Diocesan Pastoral Centre in Bo, in the Archdiocese of Freetown, for two years. In 2003 he transferred to the Spiritan parish of St Martin's in Freetown, the capital of Sierra Leone, as parish priest for 4 years. For 2 years Fr. Vincent Waiga, who is now in our Carfin community, was his assistant.
In 2008, the young Spiritan Province in the Gambia elected Louis as Provincial, a responsibility he carried for 7 years as the Church and the Spiritan Mission there flourished.
Towards the end of 2017, he came to Britain on a pastoral sabbatical programme and was welcomed to the Paisley diocese by Bishop John Keenan. Louis served initially in Paisley Cathedral, before moving to St Columba's, Renfrew assisting Fr John Eagers in St Columba's and St James Parishes. He was greatly loved and appreciated as a caring pastor. He also served in Holy Family, Port Glasgow.
In 2019 he joined the British Province and came to the Spiritan community here at St Bernadette's when he was appointed as chaplain to Wishaw University Hospital, a post he held until he became ill in 2020. Two weeks ago he was called by the Lord.
Our first reading, from the book of Wisdom reminds us that; "The lives of the just are in God's hands … they seem to have died in the eyes of fools, and their journey from us is like an affliction; in fact, they are at peace." We often wish we can live forever, however, we come into this world with a mission from the Lord and having fulfilled that mission, the Lord calls us and keeps his promise as expressed in Saint John's Gospel; "There are many rooms in my Father's house … after I have prepared your place, I shall return to take you with me, so that where I am you may be too." The Lord Jesus has prepared his place, it is ready!
Louis answered the Lord's call to preach the good news and witness to the Lord's love for all. He served in Senegal, Sierra Leone, and the Gambia, Countries which are predominantly Muslim with small Catholic populations. Our role, as pastors, is to care for this small Catholic community and reflect the universal love of God for all in our relations with the wider community. This Louis did with courtesy, good humour,  and joy.
By his service in Senegal, Sierra Leone and Gambia, he witnessed the Love of God for all, and helped to bring harmony and mutual respect among peoples and faiths.
Finally, his missionary journey brought him to Scotland and Paisley diocese where he enriched and was enriched by the people he served.
Louis, as Paul reminds us in the Second Reading, has "died with Christ" so that now he "will also live with him. We know that Christ, being raised from the dead, will never die again, death no longer has dominion over him." The Lord thanks him, as we do, for completing his mission, and has called him home. Safe journey Louis, my brother."